I had my eye on this tweedy-peplum beatuy for a while, so I bit with the 25% off cardholders promo...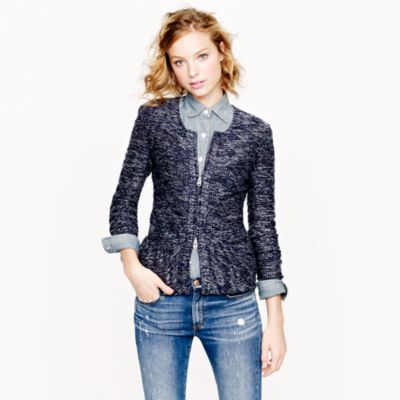 This is an XS ... I thought with the length being a little shorter I may want to size up, but my normal size with fine... the zipper stops short of the bottom, accentuating the peplum look. No annoying bracelet length sleeves and just an ever-so-slight puff at the shoulders.
It's really soft - kind of like a mix between a sweat, cardigan, and jacket. Very striking, IMO. I don't like the light grey version as much because it's less dressy.... but it's also very cute and would be a 'sale' option if I end up wearing this navy one a lot. If you're looking for a peplum piece to try this fall, I find this to be a very desirable and versatile piece.
And while we're at it....
This is a size 2 ... I love love love that it's washable! That's what made the decision for me on this top over other very similar (and probably cheaper) versions J.Crew is offering right now. I love that the pink is not 'springy' but pretty seasonless!
Look for a lot more Nicky Love in the coming weeks - I am loving her paired with the double breasted navy schoolboy!
Thanks for stopping by!